Come fight Dark Money
~ by passing ~
AB 700 California DISCLOSE Act
Trent Lange, Clean Money President
Cordially Invites You
~ to ~
Los Angeles Action Group Meeting
~ on ~
Sunday, April 10th
4 pm – 6 pm
California Clean Money Meeting Room
3916 Sepulveda Blvd, Suite 101
Culver City, CA 90230
Learn how and why we're working hard on the final push to pass AB 700 in the Senate after its landslide bi-partisan victory in the Assembly.
Yes!  I can come to the Sunday meeting!
Why We Must Stop Secret Money in Political Ads
The Supreme Court's Citizens United decision unleashed unlimited, anonymous spending on campaigns.  During in 2012 and 2014, there was $772 million  spent on California ballot measures & independent expenditures, almost all by donors hiding behind misleading names like "Stop Special Interest Money Now" or "Californians Against Higher Health Care Costs".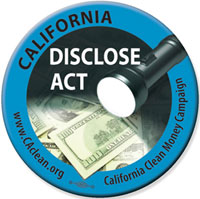 That's why we must pass the California DISCLOSE Act so people know who's really paying for political ads. The Act:
Requires the top three contributors of ballot measure ads and candidate ads paid for by outside groups to be shown clearly and unambiguously on the ads themselves.
Stops contributors from hiding from disclosure on ads behind misleading committee names.
Tell voters who is really funding propositions and attack ads when it counts! 
For more info on the
California DISCLOSE Act
, and how it will stop hidden influence of Big Money special interests, see our home page:
  www.YesFairElections.org. 
Want to become a Clean Money member
? 
Click here to join.
Thanks for all that you do!